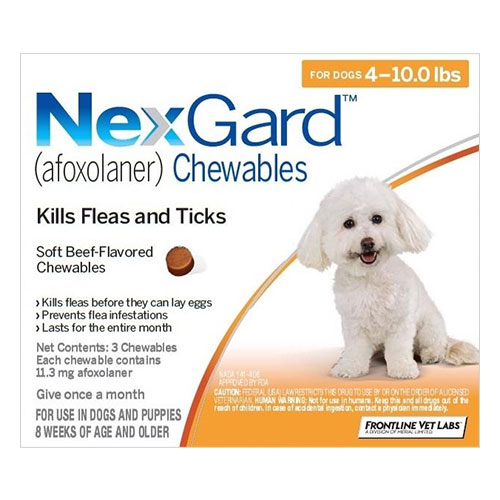 Nexgard Chewables For Small Dogs 4-10lbs Orange 11mg 6 Chews
Nexgard Chewables for Dogs
When no other flea and tick oral treatment works for your dog, try this innovative and one of the best flea treatments for dogs. NexGard comes as a new generation oral treatment for fleas and ticks. With its advanced treatment formula, these tasty chewables kill fleas and protects dogs from harmful flea infestation. The repeated dose at every 30 days also destroys ticks. These beef-flavored flea pills for dogs are easy to administer, without any mess of topical treatment. NexGard kills and controls adult fleas and 4 different kinds of ticks – the American dog tick, the Lone Star tick, Brown dog tick and Deer tick.
NexGard is a new age formula for killing fleas and ticks for dogs. This specially formulated chews from the makers of Frontline contains all-new ingredient – Afoxolaner – never used before in any other preventive. The active ingredient – Afoxolaner readily gets absorbed in the bloodstream of a pet and attacks the nervous system of fleas and ticks, which eventually leads to the destruction of these parasites. Afoxolaner is slowly realized through animals' metabolic activity and thus, NexGard effectively eliminates fleas and ticks for a whole month. NexGard can be given to any breed of dogs as well as puppies 8 weeks of age and older, weighing 4 pounds of body weight or greater.
Please be informed that as Merial is now part of Boehringer Ingelheim, the manufacturer's name may vary on the product packs according to the stock availability.